Beijing Classical Daoist and Buddhist Internal Alchemy
Daoist and Buddhist Alchemy, Wudang Qigong, Bagua, Taiji and Daoist Medicine.


August 9-19, 2013

In Asia all roads lead to Beijing. Since 300 BC Beijing has been a national capital and in 1150 AD with its unique fengshui this inconcievable mandala of pure light became the capital of the largest kingdom the world has ever known. Under Mongolian, Han and Manchurian rule it is the only capital city built in the configuration of a bagua mandala that has perfect celestial alignment. With the Forbidden City at its center Beijing is embraced by the massive Temple of Heaven, Earth, Sun and Moon and protected by majestic mountain ranges. The entire city is filled with the largest palaces, temples, parks, gardens, Stupas, universities and fortifications in the world. Yamantaka is the protector diety of Beijing and as the great Garchen Rimpoche says there have been no less than five Chinese emperors that were reincarnations of the Wisdom Buddha Manjushri who spread their wisdom light throughout the world. Since ancient times the Emperors of Beijing have been the greatest patrons of the wisdom traditions and built extrodinary temples throughout their kingdom. They also built magnificant temples in Beijing to honor great masters such as the Daoist Qiu Changchun and the Dalai Lama when they lived in Beijing. Today's renaissance in Beijing is unequaled in the world again and with its ancient culture combined with modern expression Beijing is truly a site to see.

This year's Sacred Journey to Beijing will be based on learning a complete form of traditional Chinese longivity exercises either Wudang Qigong, Tai Chi, Bagua or all three if you can. We will also learn other facets of Traditional and Esoteric Chinese culture including fengshui, medicine, meditation and religion. Everyday is full of exercise, sight seeing, massage, Medicine and having fun.

Every morning we will go to the Emperor's personal gardens the amazing Beihai Park to learn Wudang Qigong, tai chi, bagua. We will practice at either the giant Kalachakra Stupa of the Dalai Lama's Yong An Temple or the Nine Dragon Wall of the Emperor Qian Long's Temple. Like Beijing itself Beihai Park was built as another divine mandala. In the park there is a mountainous island in the middle of the lake where the Giant Kalachakra Stupa and the Protector Diety Yamantaka towers over the Forbidden City. This is where we will practice our morning exercises. Wudang Qigong in particular is a system of medatitive exercises and spiritual cultivation that uses celestrial, terestrial, and physical allignment to cultivate energy and rejuvinate the mind and body. Tai chi is an internal qi developing martial art. Bagua is also an internal martial art with its emphasis on following the energy in natural expression.

Every afternoon we will expand upon our Royal Beijing experience by going out and seeing the sacred sites of Beijing. We will visit many Buddhist, Daoist and Confucian Temples and attend their celebrations, empowerments and teachings. Most especially we will go to the White Cloud Daoist Temple to deepen or understanding of the Dao, Daoist esoteric medicine and cultivation. We will also recieve diagnosis amd treatment from the Daoist priests in residence. We will also visit other clinics to experience a variety of body work and the Chinese, Tibetan and Mongolian healing traditions. We will also take out time in the afternoons to visit the antique markets, handicraft centers and shopping bazzars. there's a lot to do in Beijing!

Every evening we will feast on real Chinese food and even dine on medicinal foods in the royal courts of the Emperors. Then after dinner we will go to the tea houses, ride on the lake in sanpans, go to the clinic for some reflexology and body work, or go to see the Peking Acrobats, Peking Opera, or see the Shaolin Kungfu Warriors. there is never a dull moment in Beijing and the sky's the limit.

Itinerary

What to expect and what to pack: Living at the Taiwan Hotel on the posh Emperor's Boulavard we will live in comfort and visit the grand sites of Beijing while cultivating the Dao of longivity and rejuvination. You'll only need to bring a few changes of clothes, your toiletries and any medications you need. Shots aren't necessary but check with the WHO or your doctor. Participate as much or as little as you like there are no requirements except for you to learn and enjoy. Itinerary is flexible. If you want to stay after the journey is over or travel on we can arrange it for you. Enjoy!!!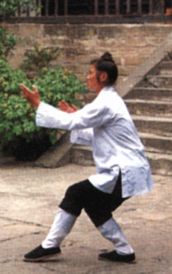 Beijing Daosit Teaches Bagua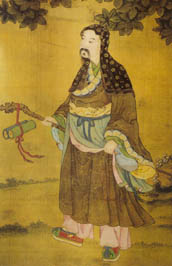 Qiu Changchun
founder of the Dragon Door Complete Truth Sect of Daoism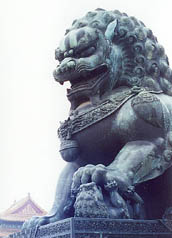 Mother lion guarding the Forbidden City
August, 9 - Arrive in Beijing check into the Taiwan Hotel. 6pm dinner and opening Ceremony, shake off the trail dust with traditional Chinese reflexology and massage.

August, 10 - 8 am introduction to Wudang Qigong, tai chi and Bagua at Beihai Park, visit Emperor Qian Long's Monastery, the Nine Dragon Wall, 12 Lake side lunch in the park. 2 pm Pilgrimage to the White Cloud Daoist Temple for diagnosis and treatment, traditional duck house dinner, herbal foot soak, reflexology and kungfu massage.

August, 11 - 8am Wudang Qigong, tai chi and bagua at Beihai Park, visit the Dalai Lama and Panchen Lama's Yong An Temple, Kalachakra Stupa and Beijing's protector diety Yamantaka, Emperor Qian Long's Temple, Emperess Dowager's Amitabha Mandala Temple, 12 Lake side lunch in the park, visit the inconcievable Forbidden City, Shopping on the Emperor's Boulavard, 6pm Emperor's Banquet, evening tea and traditional music on a sanpan ride in the North Sea.

August, 12 - 8am Wudang Qigong, tai chi and Bagua at Beihai Park, 12 Xinjiang feast, walk through the old Hutongs of Houhai, visit Guang Hua Temple, Beijing Dumplings for dinner and exotic snacks on the Emperor's Boulevard, herbal foot soak, reflexology and kungfu massage.

August, 13 - 8am Wudang Qigong, tai chi and Bagua at Beihai Park, 12 lunch Visit the Yong He Gong Buddhist Lamasary, and Temple of Confucius 6pm Dinner herbal foot soak, reflexology and kungfu massage.

August, 14 - 8am Wudang Qigong, tai chi and Bagua at Beihai Park, drive out to the Western Paradise of the Fragrant Mountains and stay at the third century Tan Zhe Temple. Morning service with the monks, Wudang Qigong, tai chi and Bagua. Vegetarian lunch at Tan Zhe Temple drive to the Ba Da Chu Temple and the Shakyamuni's Tooth Pagoda. Visit the Mystical Azura Temple, check into the Sleeping Buddha Temple and stay in the traditional court yard mansion of the temple, hiking, swimming, recreation and body work.

August, 15 - 8am Wudang Qigong, tai chi and bagua in the Royal Courtyard of the Sleeping Buddha Temple, hike to the Bonzai Farm, Royal Peach Gardens, dinner at the temple, evening practice.

August,16 - 8 am Wudang Qigong, tai chi and Bagua in the Royal Courtyard of hte Sleeping Buddha Temple, drive to the Summer Palace, Emperor's Banquet at the Summer Palace, return to Taiwan Hotel.

August, 17 - 8am Wudang Qigong, tai chi and Bagua in Beihai Park 12 lakeside lunch in the park, visit the Great Wall, dinner, Peking Acrobats, Peking Opera or Shaolin Warriors show.

August, 18 - Morning practice then free day for individual sight seeing, shopping, dinning and exploring.

August, 19 - Morning practice in Beihai Park, Afternoon flight to USA.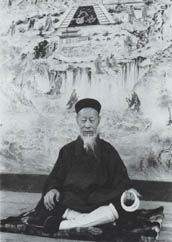 White Cloud master sits in meditation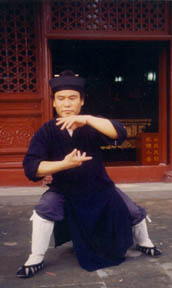 White Cloud Daoist Tai-Chi